Express Scripts Canada: The Pharmacy of Tomorrow, Today
Looking to offer your employees a pharmacy solution that makes sense and reduces your bottom line costs?
The Express Scripts Canada Pharmacy takes the guesswork associated with managing ongoing prescriptions out of your employees' hands.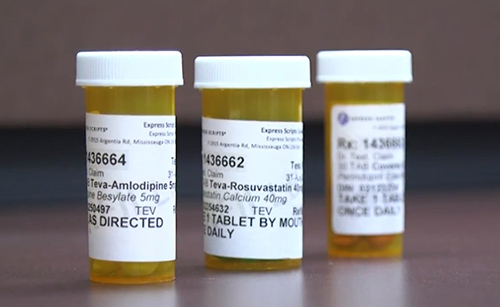 What comes to mind when you think of the Express Scripts Canada Pharmacy?
Think convenience: Prescription medications are shipped right to employees' homes or other address of their choosing. No long trips, no fighting traffic, no line-ups, and no waiting for a prescription to be filled. Perhaps most importantly, no need to leave the comfort of home! Employees manage their prescriptions online or by phone. Their choice.
Read: An active pharmacy provides more value for Canadians. Period. Here's why.
Employees set up an online account and can simply ask us to have their existing prescription transferred from their current pharmacy. Alternatively, they can have their doctor fax a prescription directly to us. We take care of the rest. A 90-day supply can be sent right to the front door. To modify account information, it's at their fingertips, 24 hours a day, seven days a week. No need to adjust schedules—the online prescription manager is always open to update an account.
Think value: Using the Express Scripts Canada Pharmacy as their go-to pharmacy for ongoing medications will likely save your employees money on their out-of-pocket expenses. By shipping 90 days' supply at a time, employees save money on dispensing fees. And our pharmacists are always watching out for patients' interests. If there are more affordable medication options for a condition, our pharmacists let them know.
Read: How a comprehensively managed prescription drug plan helps control plan spending
Workplace drug plan sponsors also appreciate the switch to the Express Scripts Canada Pharmacy, since they too keep their drug spending in check, which can serve to strengthen a plan over the long term, which translates into better healthcare for employees and their families in the future.
Think peace of mind: Although the Express Scripts Canada Pharmacy makes optimal use of technology to facilitate deliveries and transactions, patients are never without access to a trusted health care resource, such as a pharmacist. They're always just a free phone call away, 24/7. To help take the worry out of refilling their medications, we will automatically refill prescriptions approximately two weeks before they run out. This way, they will never run out of medication.
Whatever the nature of the concern, a member of our team will address it in a timely fashion and ensure patients are getting exactly what they expect, every time. They can track the status and progress of prescription shipments, so there are no delivery surprises.
Read: The evolution of the pharmacy professional leads to better health outcomes
We also take privacy and data protection very seriously, with built-in encryption procedures that ensure personal health and financial information are never compromised.
To recap: The Express Scripts Canada Pharmacy offers everything available through a typical pharmacy, and then some.
Ready to be part of the next generation of Canadian pharmacy? Ask us about bringing your team onboard the Express Scripts Canada Pharmacy today!