Each year in May at Express Scripts Canada's (ESC's) Pharmacy Outcomes conference, ESC unveils its Prescription Drug Trend Report for the Canadian market. It is a much-anticipated event for the health benefits industry, as the report contains the most comprehensive picture of Canada's prescription drug landscape for the preceding 12 months, and the most insightful analysis of what the future holds for private drug plans.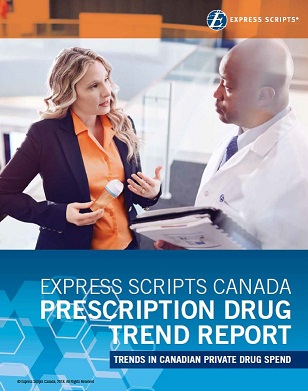 As evidenced by the large number of annual attendees, the Pharmacy Outcomes conference is a big draw for health benefits advisors looking to stay one step ahead of the latest trends, lending to their credibility as trusted leaders in helping plan sponsors navigate their benefits offering.
In addition to our annual webinar, ESC's Active Pharmacy Sales Manager, Melissa De Benedetti, offers onsite small-group sessions to highlight key findings of the Prescription Drug Trend Report, outline potential solutions for plan sponsors wanting to control costs, and answer questions.
"These sessions are a great opportunity to showcase ESC's data analytics capabilities in the space," said De Benedetti. "And how we really apply our data to offer targeted solutions all the way down to the individual plan member level through our group insurance partners."
ESC provides solutions like our Active Pharmacy Program to a network of health benefits advisors through our partners, to assist them and plan sponsors who are concerned about their rising plan costs. De Benedetti says that because the solutions are based on ESC's analysis of drug trend data, educating advisors on the trends is the best way to keep our solutions top of mind when they are meeting with their own clients.
Presentations can be tailored for specific plan sponsors, but a running theme through all of them is the challenges faced by patients with complex health conditions. As per the Prescripion Drug Trend Report, these complex patients struggle to make the best choices for their own health, and account for a disproportionate share of overall plan costs.
Many of ESC's industry-leading solutions target this group of complex patients, by offering a much higher level of support and guidance. This not only leads to reduced costs for the plan, but it almost always produces better health outcomes for the patients.
As an added perk for advisors, ESC is able to offer a Continuing Education (CE) credit to advisor staff that attend the presentations.
Educating health benefits advisors is a win for ESC, and a win for the advisors. To learn more or to book a session, contact Melissa De Benedetti at mdebenedetti [at] express-scripts.com.